---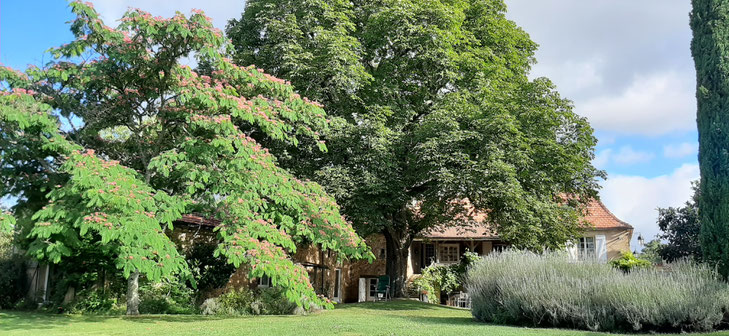 Mainly known for its culinary culture, the Périgord is an ancient county that covered approximately the present-day Dordogne department in the Nouvelle-Aquitaine region. The first traces of Perrot en Périgord - where we are pleased to welcome you - date back to the beginning of the 18th century: this former agricultural estate, typical of the Périgord, with its lauze roofs and its ochre and golden stone facades, was built in 1730.
On arrival, we invite you to leave your car in our car park in front of the main building before entering the courtyard through the beautiful original stone porch.
The gentle lapping of the fountain will make you want to sit beside it at the foot of the majestic three hundred year old chestnut tree to read, have a drink, meditate, admire nature and ... simply enjoy life.
The main building - in which our two guest rooms are located - has a magnificent tower as well as a pigeon house, very typical for our region. Its covered terrace of about 30 square metres offers a soothing view of the garden and the chestnut tree.
---
We propose for rental our three guest houses which are situated apart from the main house and each have their own style:
The Castelnaud House is a rustic cottage in the old Périgord style with all the comforts of a modern house.
The Lascaux House was the former tobacco drying house of the Domain. It was completely renovated a few years ago with quality materials. It is modern while retaining its rural character.
The Marqueyssac House has recently been rented out: it is the smallest of our gîtes with a maximum capacity of 4 people. A charming cosy nest with a breathtaking view of the surrounding nature, especially thanks to the veranda which was added in November 2021.
Each of our guest houses has a private terrace where you can spend pleasant moments with your family or friends.
---
---
Our location is very quiet as we are in the middle of 40 hectares of fields, meadows and small woods: you will not have to put up with any noise or visual nuisance when you spend your holidays with us.
Access to the Domain is via a private road 500 metres long, so we are far from the "outside world", from other people's cars and even from our nearest neighbours!
Wherever you stay during your holiday, you will have an exceptional view of the surrounding woods, fields and meadows, and you are likely to see our friends the birds, the frogs and toads, the deer, the hinds and the roe deer who want to show themselves.
Our establishment has not one, not two or three, but billions of stars! Without the pollution of cities, we enjoy an incredible sky. We are sure that you will be as amazed as we are by this spectacle of Mother Nature which appears as soon as the sky is clear. What's more, our sunrises and sunsets are breathtaking!
---
You will have understood: Perrot en Périgord is the ideal place to escape from everyday life, to reconnect with nature and return to the essential. Whether you are visiting for a single night or for a longer stay, we are sure that you will succumb to the charm of this place and experience magical moments in osmosis with nature.
---
---
free internet access (wifi)

the fact that your beds will be made up on your arrival (sheets and kitchen linen as well as a set of towels provided)

an à la carte service (full fridge service, airport shuttle, breakfasts in the gîte, organisation of your excursions, etc. ; please do not hesitate to contact us)

the possibility to rent bicycles

a personal and friendly welcome
🌺 We look forward to welcoming you to our home. 🌞
See you soon in Perrot !
Bettina & Christophe